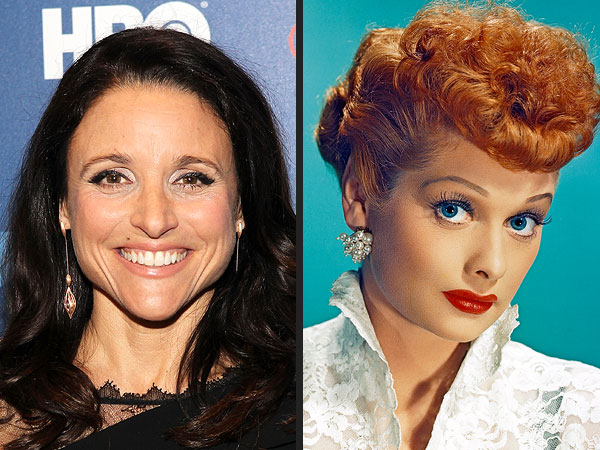 After her win for "Veep" last year, Louis-Dreyfus is the only actress who has three wins for three separate comedy shows -- "Veep," "Seinfeld" and "The New Adventures of Old Christine."
"It's taken me decades, but I have finally avenged Lucille Ball. I am euphoric," Louis-Dreyfus said in a statement.
In the Outstanding Lead Actress in a Comedy category at the 2013 Emmys, Louis-Dreyfus is up against Laura Dern for "Enlightened," Lena Dunham for "Girls," Edie Falco in "Nurse Jackie," Tina Fey for "30 Rock," and Amy Poehler for "Parks and Recreation.
"
Louis-Dreyfus' "Veep" co-stars Tony Hale and Anna Chlumsky were both nominated in the supporting categories.
"Veep" recently wrapped its second season on HBO and will return for a third.
This is how funny sounds:
I never got into 30 Rock, you see I become annoyed when confronted with incessant raving. It happened during the release of the movie Juno. Some lesbian websites and blogs went as far as to seemingly suggest that Diablo Cody receive a Pulitzer for that hackneyed teenage dramedy and as far as 30- Rock, well I've haven't liked Tracy Morgan since his stint as the brain deficient zoologist on Saturday night Live and Tina Fey...Well she does a great Sarah Palin but for me that's it.
Granted Tina Fey has won more Emmys than Julia Louis Dreyfus, however I suspect that whoever voted for her to win were of the of ilk as those who think the crappy writing style presented in the Mistresses: Josslyn/Alex story arc is also acceptable.
Proud To Be Old School:
I thought that h

er

role

as

Christine Campbell was awesom

e:
On: The New advenntures of Old Christine, Dreyfus married her business partner Barb (played by Wanda Sykes) in a failed attempt to help the woman stay in the U.S. Christine also made reference to them having slept with one another ion college and lesbian humor alluding to Christine's attraction to women was a regularly referenced source for jokes.
Best Of ALL: Politically we're on the same team.
del.icio.us Tags:
julia louis dreyfus
,
comedy
,
lucille ball
,
Emmy