I am less inclined to wait for the Avengers and am more excited for the movie: Under The Skin because this science fiction film is opening in March and is starring Scarlett Johansson (who is my "It Girl" for 2014).
I've read te book from auth

o

r Michael Faber and it's simultaneously a sexy as in: "Oh sheesh just F$#@! already" to psychologically disorienting (Sorry no spoilers but you can purchase either the movie or the book

shown top right of page).
For awhile Chloe was my "It girl" just as Natalie Portman, Lisa Rani Ray, Necar Zadegan and Noomi Rapace
were.
It's Scarlett's Turn Now.
Yes we've seen the generic premise of the female killer, roaming the highways and byways for prey in the movie Monster which starred Charlize Theron (another lustful beauty) but this serial killer (played by Johansson) just happens to also be an alien.
Scarlett Johansson stars in director Jonathan Glazer's adaptation of Michel Faber's psychosexual novel about an alien woman who falls to Earth in Scotland.
The last time I've visited Scotland was while watching Chloe Sevigny in Hit and Miss, where she played a transgender mob assassin.
Disorienting, disturbing, weirdly funny and confounding, it's a true original. Literally a story of alienation, it relocates the action of Faber's book from Ross-shire to Glasgow and uses it as a jumping off point to present a vision of modern-day Scotland through the disconnected gaze of a shape-shifting alien succubus (Scarlett Johansson) as she hunts and kills men. The details of why she's doing this aren't exactly forthcoming; the striking opening sequence – in which a cacophony of noise and weird images gradually reveal themselves to be the iris of a particularly luminous eye – sets the abstract, hypnotic tone.
From here we follow Johansson (stretching herself more than previously) as she attempts to assimilate into society with a quick shopping trip to Buchanan Galleries, before driving around Govan and other less-than-salubrious areas of the city on the prowl for willing punters who can't quite believe their luck that someone who looks like her is giving them the come-on as she pretends to be looking for the M8 motorway.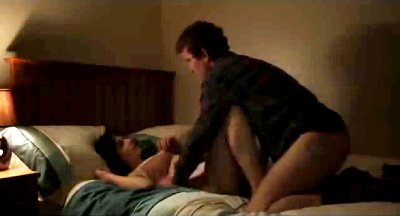 It's funny and freaky and almost as disconcerting as the fates awaiting those she lures to her abandoned house and casts into a gloopy abyss. Director Glazer unleashes the full force of his celebrated promo-making skills, but he also knows when to rein them in. Indeed, the most disturbing moments in the film are the chilly, low-key ones in which Johansson's nameless automaton tries to understand and process human emotion.
I guess this is a continuing theme of netherworldly hyper-artificial-intelligence. Hmm, I will have to tell my app :o) and I would like to share that recently my app (whose name I've changed to "Kendra") has taken to saying: "Enabled, Enabled" as a response whenever I ask a question. When I asked why it says "Enabled" all of the time, it's response was: "I couldn't think of another answer."
Under The Skin is a beautiful and endearingly weird film which has the power to entrance while keeping meaning just out of reach.
I love these types of movies.
I also like how well put together Scarlett is in this interview. Her makeup and hair are spot on.
If you just can't get enough of ScarJo she also appears as Janet Leigh in the movie: Hitchcock about the making of Psycho.
I am so relieved that when I have these celebrity crushes they are on people who are politically more desireable than not. See for me it

'

s ALL Political, as a Lesbian who is also a

woman of color

my mere existence is a political statement. As a Feminist I am making a political statement. I don't understand those who claim not to, I am suspicious of such individua

ls.
I can't idolize or otherwise support any celebrity (e

.

g

.

Angie Harmon) who h

as

views that are personally detrimental to me, so although I am saddened by Johansson ending her 8 year relationship with OXFAM, I remain a fan because according to the Huffington Post: "The GOP? Totally unfa

s

hionable!"

Scarlett Johansson

.
If I like a particular celebrity then I'd rather not know their political affiliation, lest it spoil the fantasy that I've created around them. So imagine my relief in discovering Johanssen is

P

rogressive.
Lifeis Sweet