Yes I visit other lesbian themed blogs and websites, just like the readers of those sites visit URBAN Sapphic anonymously (just look at my visitor map on any given night) and yet run to bestow kudos on those other sites.
Really? The readers know that like the proverbial drug pusher I am the one that gives them what they need. When possible I give them PRODUCT, actual unmitigated, unfiltered Product.
That is why they sneak in daily to see what's available
(Disclaimer: URBAN Sapphic is not responsible for any content linked or referred to from these pages - If any damage occurs by the use of information presented there, only the author of the respective pages might be liable, not the one who has linked to these pages.
hypervision.blogspot.com doesn't host any content. URBAN Sapphic links or embeds content that was uploaded to popular Online Video hosting sites like Veoh.com / Megavideo.com / Youtube.com / Google Video etc. All youtube/veoh/megavideo/googlevideo users signed a contract with the sites when they set up their accounts which mandates that they upload illegal content. By clicking on any Links to videos while surfing on URBAN Sapphic you watch content hosted on third parties and hypervision.blogspot.com is not responsible for any content hosted on other sites.
I do not upload any videos nor do we know who and where videos are coming from. We do not promote any illegal conduct of any kind. Videos and Links submitted to third party sites are submitted by users and managed by users.)
MOVING On:
Another thing some readers do (at least one did) is chastise me like a "school marm" if I make a mistake on one of my posts or as in the cases of AE who banned my account when I challenged to think beyond the tips of their narrow noses.
Then there are those who are afflicted by too much testosterone and/or bad manners. I have only blocked one person from posting comments on my blogs, and that action came after repeatedly allowing her to state her opinion, but when she resorted to to what I considered was a personal attack, well she was escorted to the exit.
My readers remember how I went on and on about Melissa Sandvig: The "Naughty Ballerina" who made it to the final 7 on season 5 (?) of So You Think You Can Dance.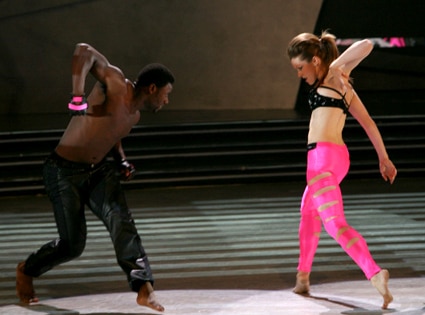 Sandvig is the first Ballerina ever not only to be cast as a contestant but to also make it to the final 7
So now I am left with reading another review of Black Swan but this time as a caveat the writer states that she is not going to delve into the plot (is that yet another way of saying that she also as in the case of other reviewer (DS) that I challenged did not see Black Swan?).
Interesting because in her review she also uses loads of "filler words" never actually delving into anything about the performances (which is exactly what reviews are supposed to consist of). She writes: "I'm not going to comb over the plot of Black Swan, because the plot is no more or less important than the cinematography, soundtrack, acting, lighting, and every other element that makes a movie visionary." She then states that the viewer never really knows what happened:
"it's impossible to say what really happens in the movie. It's almost irrelevant to say what's real, because a Black Swan delusion is much richer and infinitely more rewarding than the everyday truth."
(Is that what people write when they don't know what components make a movie great?)
Not again, um yes some viewers do know what happened and it doesn't entail being bitch slapped in the face with the irrefutable truth sweetie. Hint: "Psychotic Break".
I've seen movies that did not have huge budgets but because the screenplay was good, the movie was good. That's what all those small independent movies that catapulted Portman onto the "A" list were.
In fact if you ever saw the movie Mulholland Drive then you already have a heads-up on what is going on in the mind on Nina Sayers and it's NOT A Good Thing. Therefore Nina's Dance exists on so many levels.
This isn't about revealing plotlines anyone can just look up swan lake to get a general idea, as much as it is about seeing the intricately woven metaphorical allusion personified by Hershey, Portman, Kunis and Ryder.
On a grand scale the dance is the interplay between madness and sanity, "old" vs "new", attraction and repulsion, life and death, Black Swan is a deadly "Pas de deux" imploding and that is ANOTHER bit of evidence of Aronofsky's vision. It is about bringing to life
Mark Heyman,
Andres Heinz's words.
It's about
understanding that Aronofsky was faithful to the story by a master composer. Yes Black Swan is deliciously grand visually but delve deeper ladies in your reviews. Come On! I have read two reviews that tell me NOTHING relevant to this movie. Even the smallest details hint at a suppressed personality awakening (like the scene where Nina steals the lipstick), It's ALL there Ladies Attack It! Attack It!
Oh and as a writer I beg to differ. If the story isn't engaging and the characters underdeveloped then what's the point of having great cinematography, a solid score or even Natalie Portman kissing Mila Kunis. Are you serious?