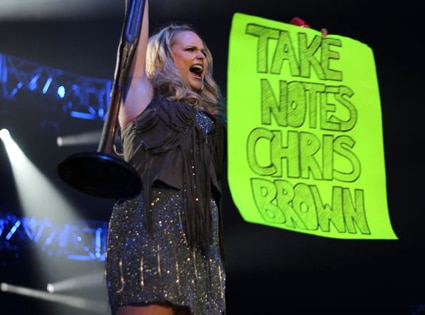 More B
reaking NEWS:
R&B Star Chris Brown in Miami Beach Robbery Rap
The Batterer Strikes AGAIN and notice how the victim is YET ANOTHER Woman:
R&B superstar Chris Brown is being eyed as suspect in a
Miami Beach robbery
!
ANOTHER accusation against
the singer
, who made news in 2009 when he roughed up his then-galpal Rihanna, stems from a Feb. 19 incident outside
Cameo nightclub
, according to
Miami Beach Police
.
Brown and rapper Tyga were apparently being
tailed by a fan
with an iPhone who took pictures of the duo as they walked to Brown's Bentley.
Alleged victim Shanae Spann told police Brown got hot under the collar about
the photos
as he sat in the car. He called Spann a b*tch and then reached through the window and snatched the phone out of the victim's hand.
"B---h, you ain't going to put that on no website," Brown said, according to the report obtained by
CBS 4
.
Brown then rolled up his window and drove away with her
iPhone
still in the Bentley.
–
Police are contemplating charging Brown, who's no longer in South Florida [LOL No he is NOT in Florida, he's in Los Angeles fighting with me on Twitter} , with one count of robbery by sudden snatching.
Brown has just been working his way back into the good graces of fans after the Rihanna beating, which led to his guilty to a felony assault and 1,400 hours of community service. He's on five years probation.
But on Feb. 20, Rihanna released a controversial remix of a song Brown did. There's a rumor Brown might join Rihanna on her tour [What a stupid, stupid woman Rihanna is. She clearly forgot that what Chris Brown did to her:
Apparently

Mr. Brown's temper is still easily challenged. How do I know? I tweeted an insult to him, now bear in mind that celebrities are used to having detractors and most disregard them. This is why those who have Twitter accounts and are famous rarely if even respond to their fans. You'd be hard pressed to get Will Smith or Jessica Alba to respond to you, insult either of them and it's B-U-H Bye Banned.
Not so with Chris Brown, Brown is ready to go at "it" with an anonymous stranger, who doesn't even purchase his music. If she is reconciled with Brown then I don't know what is going through Rihanna's mind, I mean besides being a classic battered woman [one that keeps going back to her batterer]. What did I tweet that so insulted Mr. Brown? Nothing that isn't already in this post. Read Below.
ORIGINAL POST

:
If you're wondering how Miranda Lambert feels about Brown
getting back in the studio
[In Bed?] with Rihanna. Actually, never mind, we don't wonder. We know.
It is now apparent that Miranda Lambert isn't a fan of Chris Brown and neither am I. I don't support BATTERERS.
After
slamming the singer
on Grammys night by tweeting, "And Chris Brown twice? I don't get it. He beat on a girl," Blake Shelton's little missus continued with her anti-Chris campaign Thursday during her concert at the University of Massachusetts.
Before singing "Gun
powder and Lead," about a woman preparing to kill her abusive husband, Miranda pulled out a poster with handwritten letters saying, "Take Notes Chris Brown."
Them would seem to be fightin' words.
Brown hasn't turned an entirely deaf ear, or blind eye, to the
fallout
from his dual Grammy performances and first-ever win. But he opted to
blame the media
for the fresh batch of negative attention. Maybe Brown should blame his FISTS for repeatedly connecting with Rihanna's face.
Brown is nothing more than a coward who only acts abusive towards women. I have yet to see a report of him doing these things to a male.
"DEAR MEDIA.. Ur plan is not working…I'm not going anywhere so get used to me," he
tweeted
Wednesday,
adding
, "How long is this gonna take?"
[Mr. Brown you may remain famous for years that is until you are arrested for murdering a woman ].
"Get a good picture now, put it on Twitter," Lambert instructed the crowd, holding her artwork high. "I've been in a world of hurt with Chris Brown fans lately...but see, I just have to speak my mind because where I come from, beating up on a woman is never OK."
Lambert then cracked, "So that's why my daddy taught me early on in life how to use a shotgun."