I love Sweden..Well Actually I love Swedish Women..more specifically the Swedish woman I had the BEST Date Ever with. She spoke 5 languages and the content of my ethnicity didn't seem to matter to her.
So imagine my disappointment as all my assumptions are wrecked because of this: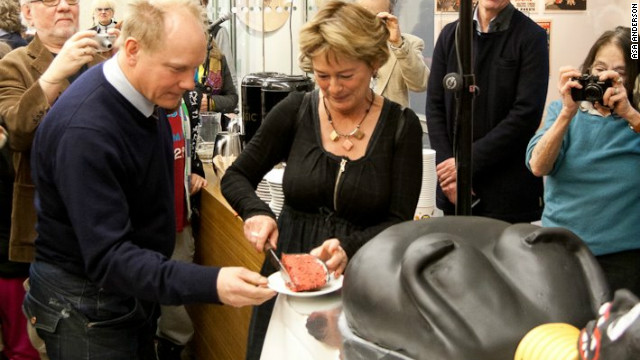 Swedish culture minister Lena Adelsohn Liljeroth cuts the controversial cake.
(CNN) -- Sweden's culture minister was feeling the heat Wednesday after a weekend art exhibit in which she cut up a cake baked into the shape of a cartoonishly stereotyped African woman.
A group representing Swedes of African descent has called for Lena Adelsohn Liljeroth to resign over what it called a racist caricature. But Liljeroth defended her participation, saying the cake was designed to "challenge the traditional image of racism."
"While the symbolism in the piece is despicable, it is unfortunate and highly regrettable that the presentation has been interpreted as an expression of racism by some," Liljeroth said in a statement issued by her office. "The artistic intent was the exact opposite."
The artist who designed the cake, Makode Linde, is of African descent himself and said the piece was aimed at condemning the practice of female genital mutilation. Pictures from the Sunday exhibition showed Liljeroth slicing into the cake from the "genitals" and feeding it to Linde, who told CNN he made himself the head of the figure and screamed in pain when it was cut.
"I didn't intend for anyone to feel singled out or embarrassed," he said. "But we're talking about female genital mutilation -- is there any comfortable or cozy way to talk about it?"
Don't you just love when idiots do something blatantly racist and then say: "I didn't intend to insult anyine." Doen't matter if the artist is of color, the artist is male so maybe she should have made a cake with a penis instead of dredging up memories of the "Hottentot Venus."
Since when our our feelings contingent on others' intentions? I wish people would stop using this tired excuse. I really wish people would stop acting clueless and i9gnorant. Seriously, Cut It Out.
Liljeroth was scheduled to meet with representatives of the National Association for Afro-Swedes, which has demanded she should step down, on Wednesday evening. The group said it hoped to ensure "that similar events don't happen again."
"To participate at a racist manifestation portrayed as art is definitely crossing the line," Kitimbwa Sabuni, the group's spokesman, said in a written statement. He said the minister's appearance shows she either supported what the group called a racist event "or that she has an extremely bad sense of questions of racism."
"No matter what, the Afro-Swedes no longer have confidence for her as culture minister and demand that she assumes her responsibility and resigns," Sabuni said.
The event took place at Stockholm's Museum of Modern Art, which was marking World Art Day on Sunday. The museum was closed by a bomb threat Tuesday afternoon, but reopened Wednesday after no explosives were found, spokeswoman Kristin Ek said.