DISCLOSURE:
I like Joan Smalls, I like her demeanor. Smalls comes off as approachable, friendly. What I like most about Joan Smalls is that
boricua
model Joan Smalls was truthful in her screen test. Joan Smalls wasn't "Discovered" on a bus, crossing the street, or laying on the beach. She pursued modeling by entering competitions and going to agencies. I never entered competitions (Oops actually I did once as a child, I didn't win. The contest was "fixed" <<smile>>), but I did go to agencies and what Smalls says in her screen test is the truthful thing I've heard.
The Allure
Models Pose For Vogue Italia's 'Black Allure' Spread
Vogue Italia cast a bevy of models of African descent in its "Black Allure" spread, which hits newsstands in the glossy February issue. Ajak Deng, Chanel Iman, Arlenis Sosa Pena, Jourdan Dunn, Melodie Monrose, Lais Ribeiro, Rose Cordero, Mia Aminata Niaria, Sessilee Lopez, Joan Smalls and Georgie Baddiel all strike a pose in the latest Versace, Ferragamo, Louis Vuitton, Lanvin and Dior.
Editor-in-chief Franca Sozzani blogged on the topic of diversity in modeling last week, writing:
There isn't a problem and it's not a problem in fashion either. There is no discrimination. I've explained many times this argument in my posts, in December for example when the Washington Post mentioned Vogue and Vogue.it as a publication that cares for black girls, and comparing the great success of Eastern models to the lack of black models in the industry. Prejudice? Absolutely not.




Iman, Naomi, Liya Kebede, Alec Wek and many others are a proof. Lazyness in the research or scouting? This yes. No other reason.

We continue to give it more space in the magazine and website. The truth is that real beauty doesn't care for skin color or nationality.
Take a look at images from the editorial by Emma Summerton and for the rest, CLICK: HERE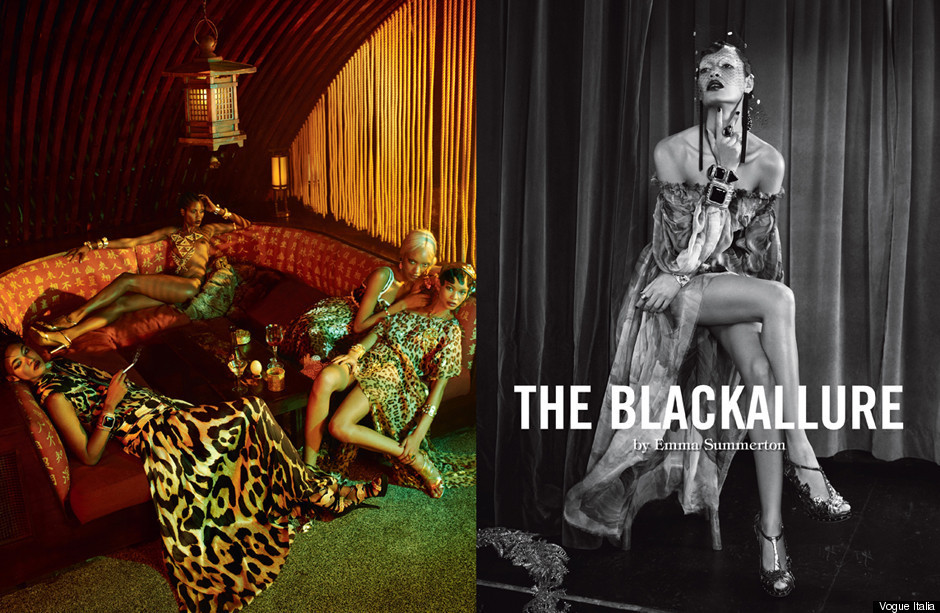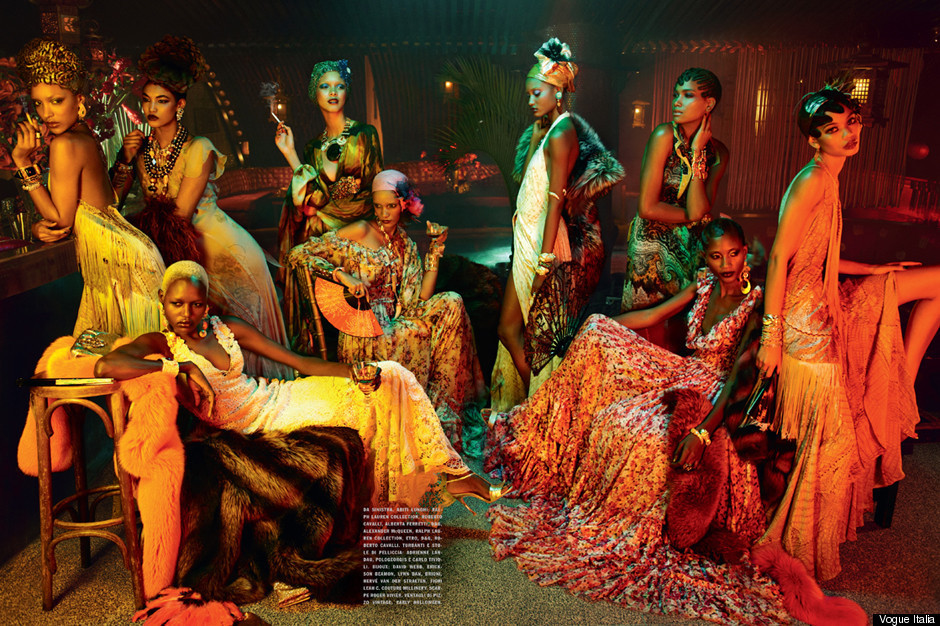 Now That's how you add soul and character [not to mention color] to prêt à porter!
Could you imagine Anna Wintour doing something like this? Well if Italian Vogue could manage to have a whole spread on black women when why can't U.S. fashion magazines like American Vogue or Woman's Wear Daily?
Someone asked why do models always look angry, well that is one of the lasting legacies of model Gia Carangi.
I don't watch many commercials – not even during the Super Bowl, and I rarely look at print adds, but I am fascinated by fashion photography.
The legacy and influence of Gia Carangi, who in my opinion was the greatest model in the history of supermodels [and not just because of my eternal crush on her], survives and thrives. Look at the two photos below:
The first photo on the right: Is of Gia in drag [Remember Gia was Butch], was taken by photographer Helmut Newton:
The second. Can you see the influence? From an issue of Elle:
The photo [belowright is of Gia] when she was introduced to the modeling world, taken by Lance Staedler:
And the photo [below left] is of model Cindy
Crawford's 10 year old daughter for a Versace campaign. Cindy herself was known as "Baby Gia".
The minute I saw the photo of Crawford's daughter [I don't care what anyone says], I knew who had influenced it.
Gia's legacy is alive and well.