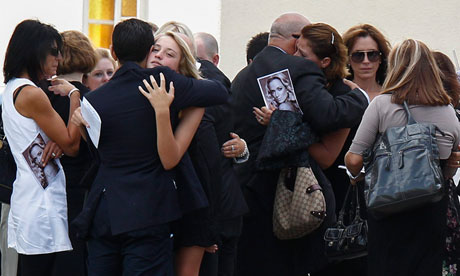 Photograph: Mike Sheehan/EPA
Tuesday 19 February 2013
While Oscar Pistorius shed tears in a Pretorius Courthouse friends and relative of Reeva Steenkamp gathered for a final goodbye at her memorial service in Port Elizabeth South Africa.Reeva's father father Barry said: 'We have to keep Reeva in our hearts forever.'
"Reeva stood against abuse against women and that stand is more powerful now. Reeva represented a world of strength and people coming out of the church are stronger." He said her father would spread her ashes during another
private service
to be held at a later date.
Amid the grief, there was also anger. Some mourners demanded punishment for Pistorius, who has admitted killing Steenkamp but denies doing so intentionally.
Gavin Venter, a former jockey who worked for Steenkamp's father, said: "Without a doubt he's a(Pistorius) danger to the public. He'll be a danger to witnesses. He must stay in jail. He's already shown how dangerous he can be for what he did to Reeva."
But is Oscar attempting to garner public sympathy with his crocodile tears? Most people don't intend to kill the person they are angry at. That's how many deaths occur.
Pistorius' account of the incident doesn't make much sense to me. I come from a law enforcement family and the words he uttered don't make sense. For example:
It's widely known that Pistorius is an avid gun enthusiast. That he was a regular at
shooting ranges
.
So it should logically follow that he was familiar with the rules of
gun safety
, the most basic of them being know what you are shooting at and where tee bullet will go.
I don't even own a gun and I know that.
Pistorius then claimed that the nonexistent intruder that he mistook Reeva for, was locked in the bathroom.
He claims to have hollered "Get out of my house."
What's interesting is that this part of his alibi could very well be true especially if he and Steenkamp were arguing.
However if Pistorius is evading the
domestic violence
issue that means that if there is no evidence of a fight or argument (which there clearly was) then Reeva would have responded and identified herself:
"I'm in the bathroom" or "It's Me"
As reported to police: The neighbors heard screams so Pistorius must have also heard screams.
As far as I am concerned, it's over for Oscar.
The admitted fact that he called a friend first after he "realized" that he had "mistakenly" shot Reeva instead of immediately calling paramedics is
criminal negligence
.
It could reasonably be speculated that after the shooting Pistorius panicked and called the friend to develop and alibi.
If YOUR loved on was gravely injured, who would YOU call first? Paramedics or a friend?
See life isn't that complicated, so you can rest assured that the defense will construct wild and convoluted scenarios to exculpate the prime suspect.
They may even go so far as tom blame Reeva for her own death.
But you know bullsh*t when you read and hear it.
Justice for Reeva Rebecca Steenkamp
18 August 1985 – 14 February 2013